Algebra
---

When will I ever use Algebra?



Algebra is used by computer programmers, engineers, carpenters, builders, teachers, in retail, finance and the list goes on.

Don't be concerned about Algebra, it's just the same

mathematical processes

you have always used, however, occasionally you will find a letter that represents a number! This is called a

variable

.

Variables often are written as an X or a Y, however any letter can represent a number.


---
Work your way through this list over the next 2 weeks


All work due by the end of term 1.

1. Complete Mangahigh activities that your Group teacher has set.

2. Revision of Algebra

3. Rearranging equations

4. Solving equations

5. Expanding brackets



- binomials (containing 2 lots of brackets)



6. Factorising

Access these pages from these buttons
---
Powered by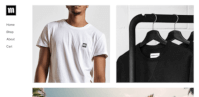 Create your own unique website with customizable templates.